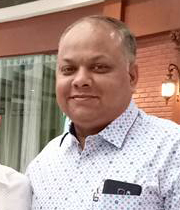 Hey, I'm Hemant Lal, an award-winning graphic designer based in Bhopal, India. I'm a multidisciplinary designer, offering creative design solutions from print communications to digital design. We specialize in magazine design, logo identity, business cards & letterheads, brochures, flyers, advertising, t-shirt design, web banners, newsletters, invites and motion graphics.
I'm passionate and love the work that I get to do and believe my designs can be a positive input into someone's day.
This website showcases a small collection of my work. More work is available upon request.